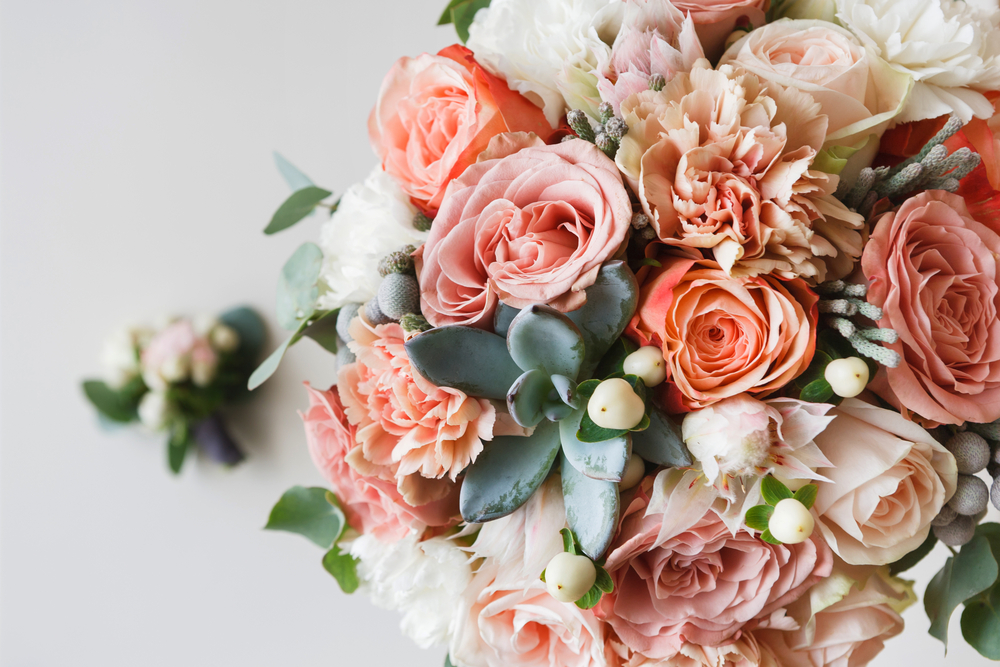 The season of "I do's" is here! After months and months of planning, couples finally see all their hard work pay off as they celebrate their special day with family and friends. But the journey it took to get to this day is no joke. From the save-the-dates all the way to the thank-you notes, so many details go into a wedding. But as with any event, a lot of the details that make the day a success end up in the trash can.
The average wedding in the United States – around 115 guests – generates 400 pounds of garbage. With more than 2 million couples in the U.S. tying the knot each year, that means over 800 million pounds of trash from weddings alone. Although weddings can be wasteful, they don't have to be. Here's a list of our favorite Zero Waste wedding tips to help you plan a thrifty, yet elegant, event.
1. Go Digital
Traditionally, couples mail a save-the-date card 8-12 months in advance of the wedding. The actual invitation only arrives 6-8 weeks before the wedding day. This invite often includes several items – a detail card for the rehearsal dinner, a detail card for the wedding day, and a detail card for brunch the day after. Then, there's the RSVP card and envelope that guests fill in and send back to the couple via mail. If this sounds like a lot, that's because it is. But couples can streamline their save-the-date and invitation by taking a more digital approach.
Instead of a physical save-the-date, consider sending an e-card. Many e-card websites offer beautiful save-the-date templates that you can send via email and/or text. Another benefit of electronic save-the-dates? They usually give invitees the option to add the event directly to their personal calendar.
As for the wedding invite, you can still mail a physical card, but save the extra paper by putting all your event details and the RSVP online via a wedding website. Just add your website URL or a QR code to the card and boom – guests can quickly access the details and RSVP with the click of a button.
2. Think: Thrift
Wedding attire can be pricey to buy. Plus, it's unlikely that you and your partner will wear your gowns and/or tuxes again – though there may be a slightly higher chance to re-wear a tux. The same goes for your wedding crew. Instead, be thrifty! There are several companies who rent out wedding attire for you and your whole posse. But if you do want to buy your own dress or tux, consider looking at secondhand wedding stores first. You can even return your outfit to the same store for someone else to wear.
Another Zero Waste wedding tip? Nix the formal wedding party. Have close friends get ready with you day-of but then, have them sit in the audience as guests. That way they can wear whatever they feel comfortable and confident in – ideally, a dress or suit they already own.
3. Forget the Favors
As more couples become conscientious about sustainability, there's been a decline in wedding favors, with only 48% of couples handing out favors in 2022 – down 21% from five years ago. It makes sense – most favors tend to be kitschy items that ultimately end up in the trash. But if you're someone who likes tradition, you can still give out favors while being sustainable. You just need to get creative!
Again, go digital. Maybe you and your fiancé love to cook. Create an online cookbook with your favorite recipes. You can display a QR code at the wedding for people to access it, or you can send a follow-up email with a link to the book. Or maybe you want a more tangible favor. If that's the case, go for Zero Waste options like soap bars, reusable travel utensils, metal straws, or canvas tote bags.
Similarly, many couples put together welcome bags for guests to receive when they check in to their hotels. Often, the bag contains a water bottle and food items all packaged in single-use packaging. So, ditch the welcome bag! Chances are your guests won't eat half of it anyways.
4. Change Up Your Décor
At most weddings, table centerpieces and other décor tend to be flowers. Although cut flowers may be gorgeous, they're not always affordable. In fact, some flower shops require couples to spend a minimum of a few thousand on floral arrangements. What makes it worse is spending thousands of dollars on décor that doesn't live long. All those flowers typically die within a week. And where do they usually go? The trash (that's if you don't have a way to compost them).
Lucky for you, we have alternative options! One of our faves? Swapping out flowers for potted plants. You or your guests can take them home where they, if properly cared for, will live a long, healthy life. But if you still want floral arrangements, just go online and search for:
Dried flowers arrangements for wedding
Paper flowers arrangements for wedding
Wood flowers arrangements for wedding
Believe us – you'll be amazed at how many options come up! The only problem? You need to find a home for all those arrangements so that they don't get thrown out afterwards. That brings us to another favorite option making waves: Rental flowers and décor. You heard us right, there are companies who rent out premium silk flowers and other decorations. The best part? After the wedding, you can ship them back for some other lucky couple to use.
5. Be Mindful of Food Waste
A 2017 report found that 10% of all wedding food is thrown away. Most of that inevitably winds up in a landfill or incinerator where it contributes to toxic air emissions and harms not only our climate, but also public health. So, how do you avoid wasting food at your wedding? First and foremost, only order what's truly necessary. Take cocktail hour, for example. Do you need extra food displays? Or will passed hors d'oeuvres suffice? Try to be mindful about what you order and what you think your guests need.
Next, check to see if there's a local shelter that you can donate leftovers to. You can likely coordinate a pick-up or drop-off with them. Last, but certainly not least, look for a composting company near your wedding venue who does events! They could set up collection bins around the venue for guests, and even set bins up in the kitchen for staff.
Normalizing Zero Waste Weddings
Hopefully these tips will help you plan the Zero Waste wedding of your dreams! It's wonderful that you and your partner are taking steps to reduce your wedding waste, but the fact remains that the wedding industry can – and should – do more to help you along the way.
Venues in particular could help couples host a Zero Waste wedding. For starters, they could invest in reusable floral arrangements and other decorations for couples to rent out on their special day. Venues could also build partnerships with local shelters and composters – ensuring no food goes to waste at any of their events.
Interested in other ways you can reduce your waste footprint? Sign up for Just Zero emails today to learn more!